McLendon Hills Real Estate News

Summer 2016

Strengthening of community ties

The McLendon Hills community is always welcoming new neighbors. Whether it be holiday events, garden club, book club, kayaking or simply gathering for food and drinks, there is a social vibe to be found. If you feel the need to get away from it all, but still be involved and close to everyday conveniences, consider McLendon Hills as your new home: country living with amenities, without the price of a country club.

This spring has brought us dozens of customer tours who are looking to relocate. Be sure and look for special offerings coming soon.

Another successful Independence Day celebration was enjoyed by all. Festivities were moved from the lake to our new covered arena, offering shade and shelter from potential thunderstorms. Bingo, cornhole, food and door prizes were enjoyed by over 90 neighbors and guests.

McLendon Home Construction Company is underway with two new custom homes. MHC are proud recipients of "Home of the Year Awards" from Moore County Home Builders Association. Call us today to discuss building your dream home!
Did you know...
Moore Regional Hospital Named in Top 100 Community Hospitals.
Read More >
Pinehurst Named #1 Best Place to Live in NC.
Read More >
"Best of the Best"
We are pleased to announce that McLendon Hills has been designated as one of ideal-LIVING magazine's "Best of the Best" for Equestrian Communities. Nominations were submitted earlier this year. An editorial committee assembled by IL reviewed the qualifications of each nominee and selected winners in more than 35 categories.
Lake Life
Early spring our resident kayakers began enjoying beautiful days on Lake Troy Douglas. With our mild but seasonal climate, watercraft season isn't only for spring and summer! Take time to enjoy your kayaks, boats, canoes and paddle boards and take advantage of the many nice days coming our way. Resident volunteers are available to help with first time kayaking lessons and instruction. The community pontoon is available for rent. Please call ahead to make your reservations!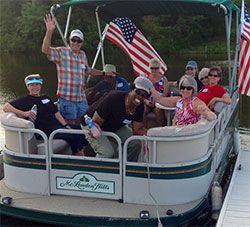 The Lake and Wildlife Committee completed three significant Projects during 2015. Water quality analysis was continued with good results. A cover project was completed in deep water for fish propagation. A kayak rack was built at The Point. Our committee will meet soon to plan this year's projects. Some potential projects include: (1) Add another section to the kayak rack., (2) Kayak contest (to be defined), (3) Kids fishing contest, (4) Adult fishing contest, (5) Additional fish cover projects, and (6) Continued water sampling. Here's to a season of good boating and fishing, and opportunities to watch our abundant wildlife.

McLendon Home Construction Company
Welcoming New Neighbors
McLendon Home Construction Company is underway with two new custom homes. Jeff and Patricia D. have begun their lakefront home on Broken Ridge Trail. Jim and Monique S. have started their mini-farm home on Saddle Ridge. McLendon Home Construction Company plans to begin construction on a new lakefront model home later this fall.

McLendon Hills Construction Company is proud to announce winning entries for the Moore County Home Builder Association Home of the Year awards:

Silver Award winner - Broken Ridge Trail, Home of Bob N. and Becky W.
Silver Award winner - 212 Gails Road, Home of McLendon Home Construction Company
Bronze Award winner - 118 Ellens Point, Home of McLendon Home Construction Company
Recent Testimonials
"We love the lake! Sailing, swimming, fishing, kayaking all summer after a morning full or horses or golf. It doesn't get any better than this!"
- Sandy C.
McLendon Hills Equestrian Center
McLendon Hills Equestrian Center hosted Moore Saddle Time Benefit Fun Show June 25. We had over 20 girls participating in classes such as Barrel races, pie race, pole bending, ribbon pairs, apple bobbing and lip stick race.
Other equestrian news...
Claire C. and her pony, Bingo, competed at the Carolina Horse Park for the first time in May at the War Horse Event Series, winning their dressage with a score of 30. Way to go Claire!!

Upcoming events include our first McLendon Hills Barn Tour where our residents can come and visit many of our mini-farms/barn to see how we manage our horses and donkeys. This will be held in October as we are still working the details. Maybe even hay rides from one barn to the next. Stay tuned!

The covered arena continues to have new features - the mirrors will be up soon and other improvements are slated for the near future. If you have not stopped by to look at the arena, you are missing a masterpiece! Take a look.
Neighborhood Improvements
Riley Paving recently resurfaced some of the roads in need of repair. This included areas around the back gate where most construction vehicles travel. Residents and pedestrians alike can now enjoy new and improved roads.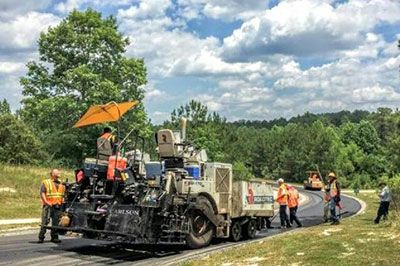 What's Going on Around McLendon Hills
The Social Committee continues to plan for the second half of 2016. See the list and dates in the box below.
| | |
| --- | --- |
| Monday, September 5 | Labor Day Pot Luck at "The Point" |
| Saturday, October 15 | Fall Daze Yard Sale |
| November 26 and 27 | Hanging of the Greens |
| December 10 | Annual Holiday Christmas Dinner |
The McLendon Hills Ladies Lunch Bunch meets at a different restaurant on the first Thursday of each month, exploring new restaurants and visiting old favorites. Members rotate hosting - selecting the restaurant, sending out the email notice, taking reservations and notifying the restaurant.
Book Club News
The McLendon Hills Ladies Book Club meets on the 3rd Monday of each month, at 3 p.m.
| | | |
| --- | --- | --- |
| Jun 20 | Wright Brothers | David McCullough |
| Aug 15 | Dead Wake | Erik Larson |
| Sept 19 | Alias Grace | Margaret Atwood |
| Oct 17 | The Dinner | Herman Koch |
'Eat Your Words" in Greensboro
December Christmas luncheon
Garden Club News
The Garden Club generally meets the second Thursday of January thru May, September and October at 1:00 p.m. We take turns hosting and planning programs for the benefit and interest of our members. We currently have 17 members from the community. Listed below is the schedule of programs for the rest of 2016:
| | |
| --- | --- |
| February 27 | Road trip to the Southern Spring Home & Garden Show in Charlotte |
| March 10 | Road trip to Dalton Pottery |
| April 9 | Road trip to Windridge Garden Shop |
| May 14 | Naturalizing with Native Plants |
| September 10 | Road trip to Black Rock Winery |
| October 8 | Tour of Hospitality House Healing Gardens |
Summer Pricing Special