McLendon Hills Real Estate News

Spring at McLendon Hills

Spring has definitely arrived at McLendon Hills. When you gaze (meaning to look steadily and intently with great interest) at the glorious Carolina blue sky, mirror-like calmness of Lake Troy Douglas, the multi-shaded green leaves of our hardwoods and deep color of the pines, one cannot deny that we live in the most beautiful place on the planet. Add to this, the majestical frolicking of horses in the pastures at the Equestrian Center. Well...It just doesn't get any better than this!!! On Sunday, March 5th, members of the McLendon Hills Social Committee met to revisit the social calendar of 2016 (what worked and what didn't) and plan for 2017. Among the items on the meeting agenda was to draft a committee charter. As our community grows, we felt that it was important to be specific about our role in the community. We "tweaked" our mission statement as well as defined the duties of each office and each member. As our first big event was approaching...Yard Sale, April 8th, we delegated duties, and discussed what could be improved. Since this is our big fundraiser to make money for the committee . . . we want to ensure that it is done right. All the "treasures" that are donated . . . and we sell . . . provides our means to "give back." We want to thank our volunteers for their willingness to work on this very busy committee. Please share any ideas you might have for future events and activities. See the list of the upcoming events and dates in the box below. As each activity approaches, more detailed information will be made available through mailbox flyers and email blasts.
Upcoming Events
May 29th - Memorial Day Monday Pot Luck - 6 p.m.
July 4th - All American Cook-Out Celebration - To be determined
Welcoming New Neighbors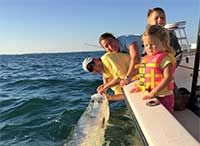 The Mabry Family
The Mabry's are pediatricians at the West End clinic. They have two children and three dogs. Welcome Home to McLendon Hills!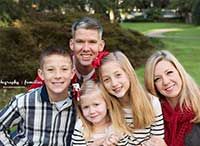 The McGraw Family
Matt is an Army Lieutenant Colonel and Kimberly is a homemaker for their four children. The McGraws enjoy the outdoors, playing baseball, tennis, running, and sports.
"Love our new house. Thanks to Suzanne and Cristy for all your help finding this gem!!"
-- Kimberly

McLendon Hills Equestrian Center
Many of us equestrians are glad spring is here and ready to enjoy the rides, shows, and blanket-less horses. We started the new year with the Equestrians of McLendon Hills gathering for a community trail ride. The weather was perfect!! At our February meeting, we viewed some obstacle training videos and then worked on the teeter totter, step up, jumps and tarp with our horses. The materials for the obstacles were donated by Carl and built by Jesse. Thank you all who participated as well as to those who came to watch.

Overall, our trail is in good shape as the erosion was minimal over the winter. Later this spring, we will have a trail clean-up so be ready to bring out your clippers and help. This is an opportune time for those non-trail riders (and even non-riders) to walk the trail. Only get that opportunity twice a year!

The next several months will see us planning for the October 7 Horse Festival led by Cowboy Carl - mark your calendars now as it will be so different from our previous festivals!

Remember: all equines are required to have an up to date Coggins and those results are to be given to Amie if you are a resident and to Sam if you are a boarder.

Meet our newest equine resident: Carl just brought Yarik on a long journey! Yarik is a seven-year-old gelding, 16.3hand Friesian. He was imported from Holland on February 28th. Yarik is trained in dressage, driving and is comfortable on the trail in a Western saddle, of course. He is adjusting well to the McLendon Hills surroundings.

We meet the first Tuesday of every month at 7pm at the main equestrian barn. Let Johnny or Carol know if you have any agenda items, training ideas or local equestrian events of interest to the group.
News from the Sales Office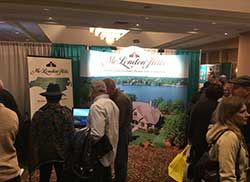 The first quarter of 2017 has been successful with property sales. We welcome several property owners and residents alike. We expect more activity from the real estate shows attended earlier this winter. See photo of our booth at the Tysons Corner Show in DC.

Barry and Denise L. from Hawaii, purchased Lot 115. Construction on their new home will begin this month.

Wayne and Maggie B. from Fayetteville purchased Lot 376 and plan to begin home construction very soon.

Stephen and Sandy S. from MN purchase lots 354& 355. Steve and Sandy will begin preparing their pastures soon. Many owners have done this prior to their construction to establish grass for their pastures. The picture is an example of an owner who recently cleared and seeded their property. What a difference this makes!


Construction is well underway for John and Sarah D., Lot 162; Rheo and Faith B. Lot 345; Kevin and Tamera M., Lot 141; and McLendon Home Construction NEW MODEL HOME FOR SALE on Lot 260.

Be on the lookout for pricing adjustments on McLendon Hills lots. New pricing effective May 1st.
Featured Homes
4 Bedrooms, 4 Bathrooms
Over 2,900 sq. f t . for only
$598,000.00
Learn More
McLendon Hills Home Construction Co.
Is Proud to offer our 2017 Home
"Value with Elegance"
Learn More
What's Going on Around McLendon Hills
Book Club News
The McLendon Hills Ladies Book club meets on the 3rd Monday of each month at 3:00 p.m. at a different member's home. On January 15th, we reviewed The Hiding Place by Corrie Ten Boon. In February, we read The Last Bus to Wisdom by Ivan Doig with Lynne Johnston providing mementos (Mounds Bars and Autograph Books) derived from the book. March 20th, we discussed The Storied Life of A. J. Fikery by Gabrielle Zevin. On April 17th, the bookies will take a road trip to Belle Meade and visit Donna Clemens and Daughter, Anne Holway, who are hosting a visiting author, Donna Hining , who will discuss her A Sinner in Paradise. On May 15th, we will be on the road again to visit Sandy Newman where we will discuss Paula McLain's Circling the Sun. On June 19th we will return to McLendon Hills at the Carr residence and discuss our first summer read, The Bootlegger's Daughter, which is a debut novel by Margaret Maron. If you enjoy books and would like to participate in the fascinating discussions of various books, come join us.
Garden Club News
When plans for 2017 were discussed at the year's first meeting, it was agreed that we wanted to explore not just gardens and plant species, but also the broader environmental issues that impact our shared North Carolina landscape. This gave us a chance to learn how the birds and bees, the lake and the surrounding farmland fit into our understanding of the natural world in McLendon Hills. After a road trip to check out the Raleigh Home and Garden Show in February, we moved closer to home in March with a program provided by Larry Winslow, past chair of our own Lake and Wildlife Committee. Revisiting the history, structure, ongoing evaluation and maintenance of the dam provided reassurance that McLendon Hills residents can count on its sound construction and conscientious supervision. Our April meeting, presented by Ruth the Beekeeping Lady, will focus on the importance of maintaining healthy bee populations, sustaining their vital role in propagation of plants and protecting diverse garden environments. In May, the Master Gardeners' Speakers Bureau will present information about the Sand Hills Farm to Table Co-op program, why it was created, how it connects local small farmers to area consumers to their mutual benefit, and what the future holds for them in the rapidly expanding landscape of locavore movements, farmers markets and area fields filling with solar panels. The McLendon Hills Garden Club would love to include you in their activities! Our calendar is posted on the POA website.

Yacht Club News

Spring is finally here! The McLendon Hills Yacht Club is an informal effort among those who have kayaks to get out and enjoy our lake. Weather willing, and subject to individual whim, we typically meet in the middle of lake on Tuesdays at 9:00 a.m. and on Sunday evenings at 7:00 during the warm weather.

Lunch Bunch News

The McLendon Hills Ladies Lunch Bunch meets at a different restaurant on the first Thursday of each month. This group is open to all ladies of McLendon Hills.

Bunco News

2017 Bunco started out at Karen's in January with a "Celebration of the Flamingo" theme. Everyone wore pink, there were hot pink drinks and flamingo pasta salad among the refreshments. February saw us at Michele's for a Mardi Gras night and even more fun. Everyone was decked out in Mardi Gras beads and purple was the color of the evening. Michele served Swamp Water drinks along with jambalaya, shrimp creole and dirty rice. March Bunco will be at Carol's for a St. Patrick's Day night and wearing o' the green.